ADMINISTRATIVE COUNCIL MEETING
The Administrative Council will meet on Monday July 8th at 6 p.m. Church members are invited to attend but only Council members may vote on issues.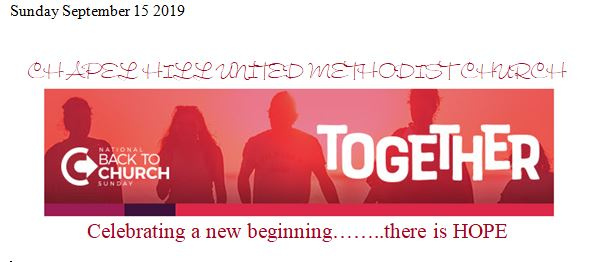 WOMEN'S BOOK GROUP
The Women's book group meets on Tuesday July 16th, at 10:00 a.m. at Panera bread. All women are invited to participate and bring a friend. See Rose Churchwell for more details.
CHAPEL HILL UNITED METHODIST ENIORS (CHUMS)
All CHUMS are invited to lunch by Judy Angle on Tuesday July 2nd, at 11:30 a.m. We will meet in the fellowship Hall for good food, fellowship and sharing blessings. Please bring a friend!
COMMUNITY KITCHEN
We have a great time preparing and serving meals at the Community Kitchen each month. To participate on Wednesday June 19th, please plan to meet at 4 Calhoun Avenue at 8:30 a.m.
SON LIGHT BIBLE STUDY
Sunday Morning 9:45 a.m.
Beginning June 21st 2019, the class will start an eight-session study "Invitation to the New Testament" by David A. DeSilva and Emerson B. Powery. The sessions will be held in the classroom off the Fellowship Hall.
WEDNESDAY NIGHT BIBLE STDY
Everyone is invited to join us in the Fellowship Hall each Wednesday at 6:00 p.m. as George Gaddie leads the study "The Deeper Meaning of the Book of Acts" dealing with the birth of the early church and its spread throughout the Mediterranean area.
Bible Study
The Deeper Meaning of the Book of Acts
Lesson 1 June 19th The End and the Beginning!
Lesson 2 June 26th Birth of the Church
Lesson 3 July 3rd Growth Amidst Opposition
Lesson 4 July 10th The high cost of following Christ
Lesson 5 July 17th God Calls a New Leader
Lesson 6 July 24th Darkness and light, incarnate
Lesson 7 July 31st A Turning Point
Lesson 8 August 7th The Gospel Reaches Out
Lesson 9 August 14th God Works in Marvelous Ways
Lesson 10 August 21st Witnesses for Christ in Rome
Lesson 11 August 28th The high cost of following Christ
Lesson 12 September 4th The End....and a new Beginning!